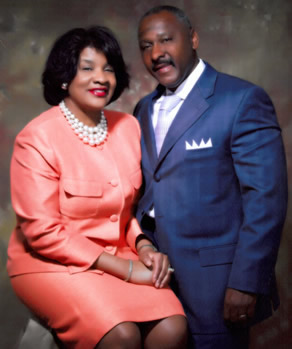 Reverend Tyrone L. Johnson has always been one who would not follow the crowd, but if he had to, he would stand alone. As he grew up he did not allow his surroundings to dictate or determine his destiny. He was one that believed that it was not how you started, however, but that it was how you finished that mattered.
Reverend Johnson was fascinated when he read Matthew 20:28 which states: "Even as the Son of man came not to be ministered unto, but to minister, and to give his life a ransom for many," it was then that he knew that he wanted to be a servant of God, in one capacity or another. He understood why he enjoyed serving the citizens of Virginia Beach as a Construction Inspector, where he has been employed for the past 30 years. He has also served in the United States Army and the Virginia National Guard where during his tenure there was deployed to the Gulf War, and currently serves as Vice-President of the Charlotte Village Home Owners Association
Reverend Johnson is a graduate of Tidewater Bible College where he pursued a Bachelors Degree in Christian Leadership. He has been afforded the opportunity to teach classes, hold seminars, serve as a revivalist, and to preach at various churches throughout the Hampton Roads area. He has been blessed to have received many accomplishments and achievements, but most importantly is blessed to be called a "Fisher of Men." He is most proud that God has allowed him to serve His people in a way that is beyond comprehension, and mimics Jesus' words in Matthew 20:28, "He came not to be served, but he came to serve." NLV
God joined him together with his lovely wife, the former Selnetta Clary and they make their home in Virginia Beach, Virginia. They are the proud parents of two daughters, Lakisha and Tanisha.
Reverend Johnson's favorite scripture is Matthew 6:33, "But seek ye first the kingdom of God, and his righteousness; and all these things shall be added unto you."
To reach Pastor Johnson via email: This e-mail address is being protected from spambots. You need JavaScript enabled to view it